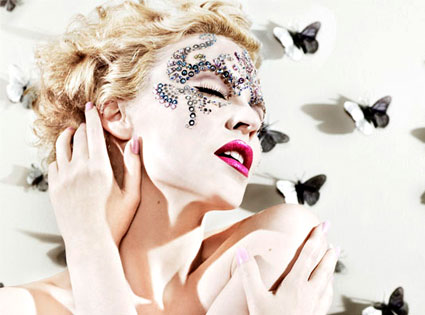 Stuck in the house because of chilly weather over Easter I flipped through a trashy lady's mag someone had brought with them and came to an article about Kylie. I like Kylie so I made an effort to start reading the Greek article.
I didn't get past the first line which advertised
Kylie's concert in Athens on the 22nd of May at the Terra Vibe Stadium
.
*Scream!* I've been wanting for a long time to go to a Kylie concert but they're way to expensive. In Athens, however, the top ticket of EUR 110 is roughly the same as the cheapest or almost cheapest ticket in London. The cheapest ticket of EUR 55 is peanuts if you compare it to anywhere else she's performed. Since my birthday is on the 14th of May (mark your diaries, babies) I thought why not treat myself. I know all her songs, singing along should be fun.
Sadly living in the land of rock lovers means I have no one to go with. Anyway, I just printed my receipt for my ticket and will keep in the hallowed place reserved at the bottom of my underwear drawer for Really Important Things.
If anyone's interested in joining me, dust off your golden hotpants and drop me a line via comments. Whoopee! Really helped to lift my blues!
Image:
http://images.eonline.com/eol_images/Entire_Site/20071128/425.minogue.kylie.x2.112807.jpg